Initiatives for Climate Change
Climate Change
The Paris Agreement was adopted at the 21st session of the 21st Conference of the Parties to the 1992 United Nations Framework Convention on Climate Change (COP21) in December 2015, and the entire world began to move toward a decarbonized society.

The Paris Agreement is an international treaty that aims to keep global warming below 2℃ with efforts to limit it to 1.5 throughout the world by the latter half of the 21st century.

Europe is leading with standards and policies for a decarbonized society. In Japan as well, environmental initiatives such as climate change issues have become a major topic, with the goal of zero CO2 emissions by 2050.
Climate Change Initiatives-Support for TCFD
NBFM revised its Policy on ESG Initiatives in February 2021 to clarify stronger efforts to address climate-related issues and, by agreeing with the TCFD, assess the financial impact of future climate change risks and opportunities and assertively disclose activities.
Governance and risk management system
In compliance with the "Rules on ESG Initiatives," NBFM has organized an "ESG Promotion Committee" with its President and CEO as the head of committee. It monitors risks and opportunities related to ESG no less than once a year at the "ESG Promotion Committee," and the head of committee decides the implementation of measures for the management and reduction of such risks and opportunities as well as the establishment of goals and KPIs.
Climate-related risks related to NBF
NBFM considered the climate-related risks that may have a financial impact when it comes to NBF's real estate investment management business across the group, and identified the risks related to businesses as described in the following chart.
Type of
risks
Category
Timeframe(*1)
Identified risks
Transition
Policy/legal
regulation
Long-term

Risk of occurrence of additional costs for the purchase of carbon credit and repair of portfolio properties in order to respond to regulations under existing laws including the Act on the Rational Use of Energy, Act on Promotion of Global Warming Countermeasures and the total (pollutant) load control by Tokyo Metropolitan Government and further reinforcement of reduction obligations.

Risk of occurrence of additional costs regarding the purchase of CO2 emission rights or energy procurement price due to the introduction of carbon tax, etc.

Technology
Short-term

Risk of change in specifications required for building facilities due to the spread of low-carbon new technology products such as electric vehicles.

Market
Long-term

Risk of occurrence of unexpected losses at owned buildings with relatively low environmental performance as the environmental performance of buildings start to have a significant impact on occupancy rate, CF and asset value against the backdrop of the tightening of regulations and change in tenant preference, etc.

Risk of an unexpected increase in expenses for entrusting businesses to PM, etc. due to the increase in response items including the tightening of environment regulations.

Reputation
Short-term
Long-term

Risk of only being able to procure funds at conditions and interest rates which are less advantageous than those of the market level due to increase in the requirement level regarding the ESG composition and factors of businesses and the greenness of portfolio in the procurement of funds from investors and financial institutions.

Risk of decline in reputation due to a negative image on NBF's stance on response to climate-related issues given to investors or general public.

Physical
Acute
Short-term
Long-term

Risk of damage to facilities caused by flood (river flooding, etc.) in the event of heavy rainfall disasters.

Risk of people having difficulty returning home from office buildings in the event of disasters.

Risk of occurrence of short-term costs due to the revision of nonlife insurance premium associated with the increase in the frequency and degree of disasters.

Risk of having an impact on the business continuity of NBFM and NBF Office Management due to the frequent occurrence and intensification of disasters.

Chronic
Short-term
Long-term

Risk of having a commercial impact on retail spaces due to the behavioral change of building users (promotion of remote work, etc.) with the increase in the number of bad weather days (fierce heat, severe cold, rainstorm and heavy snow).
 Short-term = by 2030; long-term = by 2050
As for climate-related risks that are believed to have a particularly significant impact on businesses, NBF is making efforts to understand the status of such risks as well as implementing initiatives and strategies to manage such risks, as described in the following section.
Transition risks
a.Risks related to policy and legal regulation
Status of risks

NBF has become a business operator subject to domestic regulations including the Act on the Rational Use of Energy, Act on Promotion of Global Warming Countermeasures and the regulation of total (pollutant) load control by Tokyo Metropolitan Government as a business operator that consumes more than a certain amount of energy and emits a large amount of GHG, and is obligated to report energy saving and GHG emissions as well as improve and reduce them. If such obligations are violated, penalties including administrative guidance, a maximum fine of 1 million yen or less and announcement of violation will be imposed.
 7 properties (16.5% of the portfolio, as of June, 2021) are subject to the total (pollutant) load control by Tokyo Metropolitan Government (TMG Cap-and-Trade Program) on which a particularly advanced reduction obligation has been set, and an obligation to reduce the total volume by 27% on average until 2024 and by 35% on average from 2024 through 2029 has been imposed on such properties.

Other initiatives for
management and reduction
of risks

Establishment of goals on energy consumption intensity and GHG emission intensity(Please refer to P.15)

Systematic energy-saving renovation of owned buildings

Implementation of energy efficiency walkthroughs jointly with NIKKEN SEKKEI CONSTRUCTION MANEGEMNT Inc.

Encouragement of energy saving and promotion of green lease through tenant engagement

(Plans to proceed with the) introduction of renewable energy

As a response to such initiatives, NBF is currently sequentially improving the energy-saving performance of properties to achieve decarbonization, and plans to record about 2 billion yen of countermeasure construction costs in approximately 10 years.

On the other hand, there is a possibility that the reduction obligation will not be achieved with the current plan if energy consumption and GHG emissions associated with it exceed the assumption as of now or the level of reduction obligation is tightened based on policies due to the impact of climate change. In such cases, there is a risk that costs for additional countermeasure construction and purchase of emission credits will be required. We believe that such risks may become apparent within the next 10 years when based on the policy goal of achieving carbon neutrality by 2050.

Case example

Reduction of CO2 emissions through systematic introduction of LED

Promotion of the adoption of LED

Introduction of Green Lease

Introduction of Renewable Energy
b.Risks related to change in the real estate market
Status of risks

Risk of occurrence of damage to the asset value of low-performance buildings due to the impact of environmental performance on real estate prices against the backdrop of the tightening of regulations and change in tenant preference

Initiatives for management
and reduction of risks

Systematic energy-saving renovation of owned buildings and introduction of new products and technologies

Implementation of energy efficiency walkthroughs jointly with NIKKEN SEKKEI CONSTRUCTION MANEGEMNT Inc. and monitoring of environmental performance

Acquisition and maintenance of various external certifications and ratings

Property replacement strategies with sponsors

Maintenance and improvement of property value through the assessment and monitoring of tenant needs

Case example

Improvement of portfolio performance and building age through property replacements
Large-scale property replacement cases conducted in the 33rd and 34th periods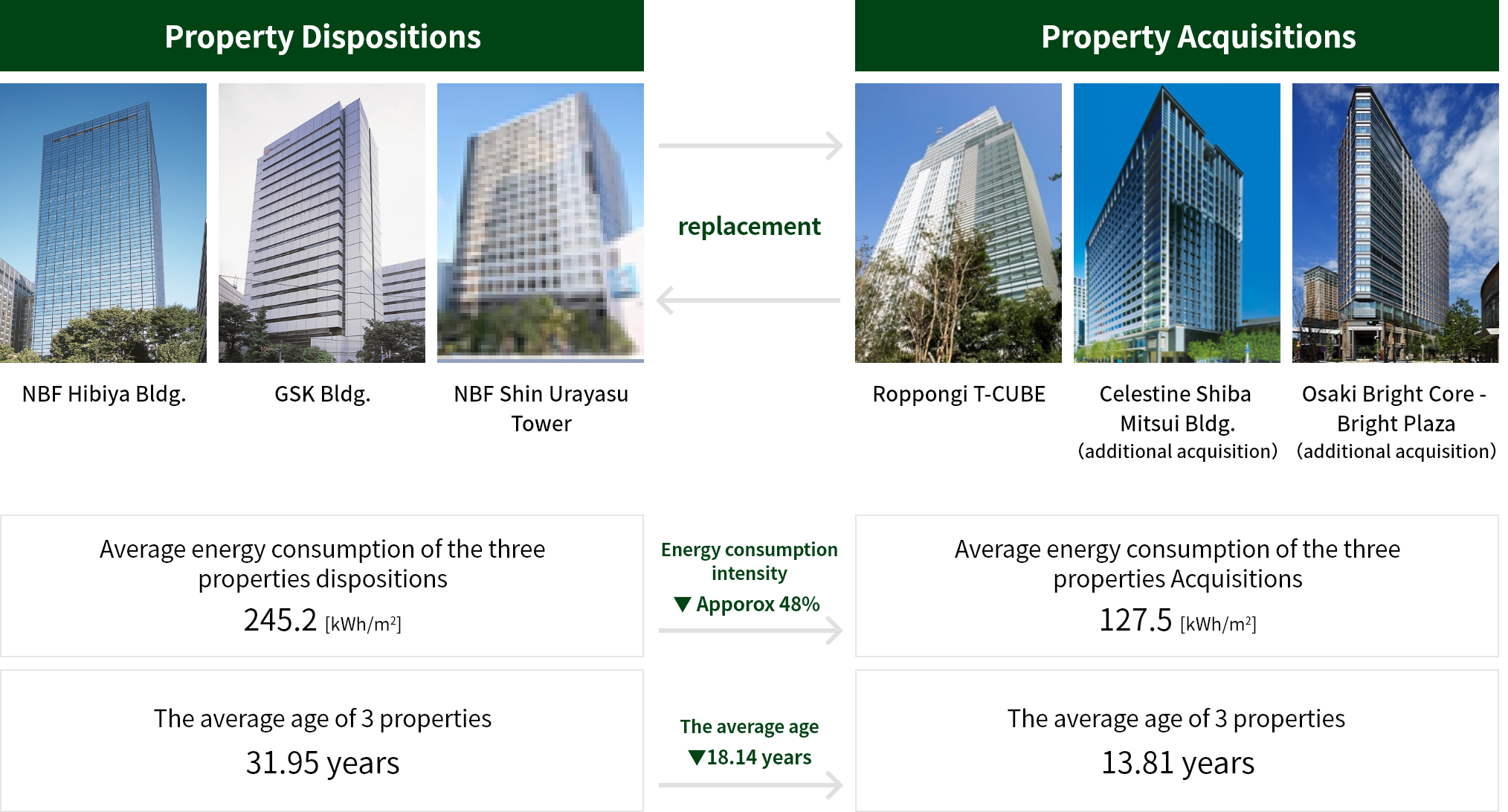 c.Risks related to the greening of the financial market
Status of risk

Increase in investor engagement regarding ESG

Green finance and climate finance spread at J-REITs as well as inside and outside Japan

Risk of decline in investment unit price and deterioration of reputation in case the level of requirements by investors focusing on ESG increases and response to such matters cannot be made

Risk of suffering from a disadvantage when setting interest rates in accordance with the ESG assessment of NBF in financing and the greenness of owned assets

Initiatives for management
and reduction of risks

Acquisition and maintenance of various external certifications and ratings

Securement of transparency through ESG disclosure

Case example

First issuance of ESG Report by a J-REIT

NBFM became the first J-REIT to issue an ESG Report in 2017

The report has been revised every six months since the start of issuance (ESG Report as of April 2021)

Proactive acquisition of Green Building Certification and Assessment

NBF discloses the high value of owned assets by acquiring Green Building Certification and Assessment

As of December, 2021, it has obtained for 78.1% of the floor area in which it holds ownership interest
Physical risks
a.Damage to buildings caused by natural disasters
Status of risks

The increase in the amount of rainfall as well as the increase and intensification of heavy rain are forecast due to climate change, and the risk of damage to buildings attributable to such factors exists

Implementation of countermeasures against inundation based on hazard maps as the current countermeasure against flood

A flood that occurs once in 1,000 years is assumed according to the domestic hazard map (assumed maximum scale), and the frequency itself may change due to climate change

Initiatives for management
and reduction of risks

Periodic disaster risk assessment at the time of acquisition and during the holding period

Establishment and implementation of countermeasure programs against inundation

Enrichment of emergency facilities at all owned properties

Development of BCP system at each property

Case example

Construction work to improve Back-up electricity supply
(NBF Shinagawa Tower/FY2019)
b.Business continuity of NBF upon the occurrence of climate disasters
Status of risks

Natural disasters may occur more frequently and intensify due to the progress of climate change

Business activities by our employees and clients assuming normal operation may be disrupted

The impact of delayed settlement on investment unit prices and default due to the increase in accounts receivable from tenants have financial impacts

Initiatives for management
and reduction of risks

Review of traditional operation with a view to proactive use of remote work

Case example

Proactive use of telework

NBFM provides laptop PCs to all employees (including temporary staff) and has developed a remote-work system

It introduced a remote-conference system and is proactively using it.

Remote conference
c.Change in the behavior of building users due to chronic change in climate patterns
Status of risks

The number of building users may decrease due to the impact of climate change including a chronic temperature rise and an increase in the number of bad weather days

Possible commercial impact on retail spaces and change in office needs


On the other hand, it is assumed that the current portfolio of NBF is unlikely to be impacted by the change in needs due to its characteristics (located in central Tokyo, used as high-grade buildings for head offices, etc.)

Initiatives for management
and reduction of risks

Monitoring of office demand

Case example

Periodic monitoring of real estate leasing market

Monthly information sharing with leasing and marketing department of Mitsui Fudosan on market conditions including examples of contracts concluded by other companies (every month)

Provision of various market information by brokers and think tanks (twice a year)

Customer Satisfaction Surveys(once a year)
Indicators and goals
For detail, Please refer to ''Environmental Targets''