Initiatives for Green Building Certification
Green building certifications are granted by third parties regarding initiatives for the reduction of environmental load of buildings, improvement of comfort of users, etc. to assure high performance.
In an aim to increase the credibility and objectivity of its efforts to reduce environmental load as well as increase the value of its buildings in the mid-to-long-term, NBF endeavors to utilize green building certifications from third parties.
Policy for Acquiring Green Building Certification and Assessment
NBF aims to acquire 100% to acquire green building certifications and Assessment for existing properties under management on an ongoing basis for the purpose of reducing the environmental risks of its portfolio and increasing asset value in the mid-to-long-term.
Summary of the DBJ Green Building ceritified properties in NBF's portfolio (as of September 30, 2022)
| | Jun. 30, 2021 | Dec. 31, 2021 | Jun. 30, 2022 | Sep. 30, 2022 |
| --- | --- | --- | --- | --- |
| Number of Certified properties | 43 | 46 | 45 | 53 |
| Total floor area of certified properties (*) | 1,424,256㎡ | 1,454,247㎡ | 1,452,821㎡ | 1,605,800㎡ |
| Proportion of certified properties to whole portfolio (based on number of properties) | 57.3% | 63.0% | 61.6% | 75.7% |
| Proportion of certified properties to whole portfolio (based on floor area) (*) | 74.4% | 78.1% | 75.5% | 85.3% |
Calculated based on the floor area multiplled by ownership ratio of the property or on the floor area of exclusively owned area.
DBJ Green Building Certification
"DBJ Green Building Certification" is a certification system established in April 2011 by the Development Bank of Japan Inc. to support buildings with high environmental and social awareness (a "Green Building").
Based on its comprehensive evaluation system, which includes not only an environmental performance but also a social one (owner response to social needs of the diverse stakeholders of the properties), DBJ identifies and certifies "Green Building," which are essential in today's real estate market. Evaluation results are expressed in five-level ratings.
Scoring of DBJ Green Building Certification
Stars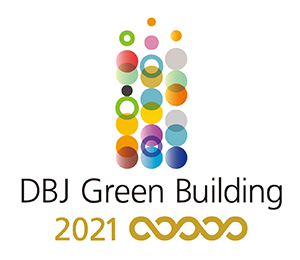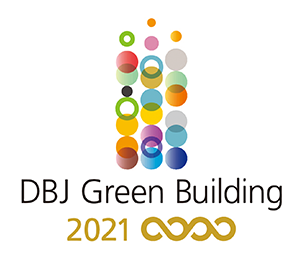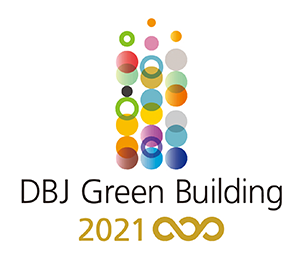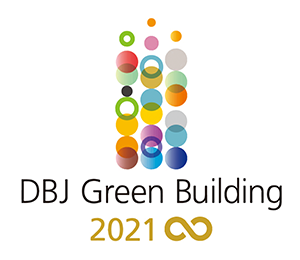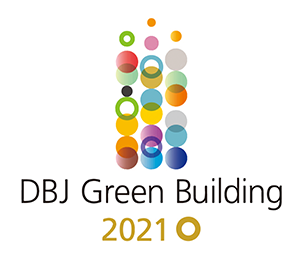 CASBEE for Real Estate
"CASBEE (Comprehensive Assessment System for Built Environment Efficiency)" is a system to evaluate environmental performance of buildings, operated by the CASBEE Research Committee, established in April 2001 as an industrial/academic/government cooperation project under the support of the Housing Bureau of the Ministry of Land, Infrastructure, Transport and Tourism. The system comprehensively evaluates the quality of buildings, including but not limited to environmental considerations such as using materials and equipment which are energy saving or have a lower environmental impact, internal amenities and also giving consideration to views.
Evaluation results are expressed in four-level ratintings.(S★★★★★ rating to B rating ★).
For properties with both DBJ Green Building and CASBEE for Real Estate certifications, the certification with the later expiration date is listed.
Top-Level Facility Certification
The "Top-Level-Facility (Specified High Quality Commercial Facility with Measures against Global Warming)" is a scheme to proportionally mitigate the required greenhouse gas emission reduction ratio of the subject facility, in accordance with the level of measures taken against global warming, if such building is approved by the Tokyo Governor as meeting "certain standards set forth by the Governor" as an "office building promoting an excellent level of measures against global warming (Specified High Quality Commercial Facility with Measures against Global Warming)."
| Property Name | Certified Level |
| --- | --- |
| GranTokyo South Tower | Top-Level Facility |
| IIDABASHI GRAND BLOOM | Near-Top-Level Facility |